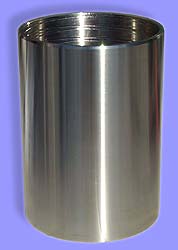 The Jefa rudder sleeves are used in two applications:
To provide a high tolerance bearing surface for carbon rudder stocks. Roller bearings can't run directly on the carbon surface of a carbon rudderstock as the surface isn't accurate and hard enough. By bonding the sleeve with epoxy around the carbon rudderstock, a very precise outer surface is created, also ideal as running surface for lip-seals.
When converting conventional plain bearings to roller bearings. As a rudderstock produced for gliding bearings doesn't have the appropriate tolerance and the surface will have been worn by the gliding bearing one has to use sleeves over the shaft to create a proper surface again. Please read more on this subject on our conversion section.